Developments in Vietnam's Foreign Policies after the 13th National Party Congress
Dr. Le Dinh Tinh, Director General of the Institute for Foreign Policy and Strategic Studies of the Diplomatic Academy of Vietnam (DAV) and researcher Lai Anh Tu wrote an article about some developments in Vietnam's foreign policies after the 13th National Party Congress. The article was posted on The Diplomat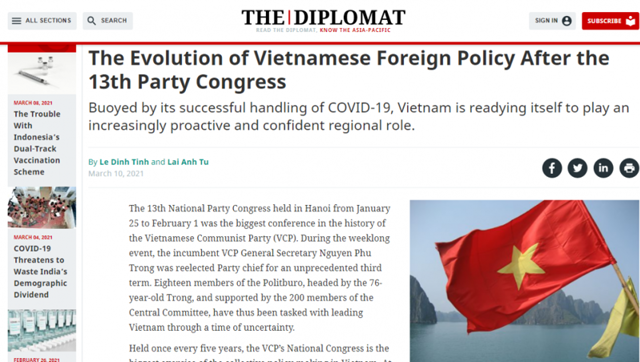 The 13th National Party Congress was the largest congress in the history of the Communist Party of Vietnam, and it was held from January 25th to February 1st in Hanoi.
During this one-week congress, General Secretary Nguyen Phu Trong was re-elected for a third term. 18 members of the Political Bureau (Politburo), headed by Mr. Trong, along with 200 members of the Party's Central Committee, have taken the task of leading the country through this period of changes
Held every five years, the National Party Congress is the largest collective policy-making activity in Vietnam. During the Congress, delegates discuss and approve national security strategies, foreign policies, national construction and defense strategies, as well as selecting senior personnel for the next five-year term and for coming years.
Therefore, the foreign policies decided at the Congress have great policy implications. The 13th Party Congress Resolution was adopted with absolute votes, emphasizing the importance of foreign affairs.
More importantly, this Resolution represents an effort to synthesize internal support for Vietnam's foreign strategies, as 1587 delegates, who attended the Congress, represent all fields, ministries, branches, and localities of the country.
For the first time in 15 years, four senior diplomats were elected to the Party's Central Committee, one of which is the newly elected member of the Politburo, Deputy Prime Minister and Foreign Minister Pham Binh Minh. The above highlights will help Vietnam to promote coordination among ministries and sectors and have a more comprehensive approach to foreign affairs.
Persevering guiding principles
The political report of the 13th Party Congress emphasizes that Vietnam will continue to implement the foreign policy of independence, self-reliance, diversification and multilateralization. The report also reaffirms the "Four Nos" principle in the defense policy, in which the ultimate goal is to protect national interests on the basis of respecting international law.
Moreover, the report reaffirms Vietnam's commitment to continue being a friend, a reliable partner, and an active and responsible member of the international community.
These guiding principles have not only remained unchanged since the 12th Party Congress held in 2016, but also added nuances to Vietnam's foreign policy implementation in the next five years, as well as showing a sign of Vietnam's positivity and confidence in the international arena.
In that broad context, the recent Congress had many notable new developments related to Vietnam's foreign policies.
The first and most remarkable point is the emphasis on the pioneering role of foreign affairs in maintaining a peaceful and stable environment, making the most of external resources for developing and enhancing the country's position and reputation.
This new development has two main components, implying that diplomacy needs to play a more central and active role in protecting Vietnam's sovereignty and territorial integrity, enhancing national and regional capacity as well as increasing Vietnam's international reputation.
Similarly, this step forward has recognized the importance and contribution of the foreign sector in formulating a comprehensive national strategy for Vietnam. This new development also implies that diplomacy should be on the "front line" in national construction and defense.
Secondly, the 13th Party Congress emphasizes the need to build a "comprehensive and modern" diplomacy - including 3 pillars of Party diplomacy, State diplomacy, and people's diplomacy, as well as a smooth combination of the above pillars.
By adding the "comprehensive" connotation, Vietnam will explicitly promote all aspects of diplomacy: political, economic, defense, public, cultural, and parliamentary.
Considering the development goal of "modern" diplomacy, Vietnam is expected to increase investment in building capacity for staff and external infrastructure, as well as to promote new initiatives, such as "digital diplomacy".
Thirdly, while the political report of the 12th Party Congress focuses mainly on identifying opportunities, that of the 13th Party Congress pays attention to assessing Vietnam's strategic environment more dialectically and comprehensively. It also identifies the challenges that Vietnam may face in the coming decades.
While identifying peace, independence, cooperation, development, as well as the 4.0 industrial revolution are still major global trends, the Congress has also pointed out that great power competitions, local conflicts, rise of nationalism, and adverse effects of globalization and international integration, and many other challenges may threaten Vietnam's security and development.
Fourthly, the 13th Party Congress has decided to elevate Vietnam's multilateral foreign relations, emphasizing Vietnam's role and participation in ASEAN, the United Nations, APEC, Mekong sub-regional cooperation, and other regional and international cooperation frameworks.
In August 2018, the 12th Secretariat issued Directive 25, the first strategic document on raising the level of multilateral foreign affairs. This is an important theoretical development in Vietnam's foreign policies, as multilateralism has always been a strategy to limit risks, avoiding over-dependence on a few partners, while ensuring strategic freedom and expanding Vietnam's network of friends and partners.
However, this does not mean that Vietnam's foreign policies focus only on multilateral foreign affairs, but instead, Vietnam will combine and balance bilateral and multilateral diplomatic efforts.
Promoting and expanding relations with neighboring countries, strategic and comprehensive partners, and other key partners - in the above order - remain the center of Vietnam's foreign policies.
New motivation, new position
There are many key factors, both internally and externally, that may explain Vietnam's motivation in promoting these initiatives.
Firstly, the changes in foreign policies at the 13th Party Congress reflect a larger shift in the strategic thinking of Vietnamese leaders.
According to former Deputy Prime Minister Vu Khoan, one of Vietnam's leading foreign strategists, security, development, and influence have always been the three strategic goals that Vietnam aims for.
At previous Congresses, Vietnam's security and development strategies were always dominated policy discussions. Vietnam's past foreign policies were fundamentally designed to promote these two goals.
Currently, Vietnam's foreign policies have been directed to further heighten the country's international position.
Vietnamese leaders also recognize the need to enhance the effectiveness of strategic planning through combining foreign policies with different policies to form an overall national strategy by 2030.
Furthermore, advances in science and technology that may change the future rules of the game will require each country to be more adaptive and flexible in its foreign relations. Once again, the core values of independence, self-reliance and balanced relations with all major powers have been emphasized.
Secondly, since the 12th Party Congress up till now, Vietnam's national position has also been different from the past. With growing national capacity, Vietnam is aiming for a more proactive role in maintaining a peaceful and stable environment, beneficial for the pursuit of security and development goals.
Last year, Vietnam ranked 12th in the Asia Power Index 2020 ranking, thanks to an increase in foreign influence, and 2nd in the Covid-19 Performance Index of Lowy Institute, Australia.
In terms of economy, Vietnam is currently one of the fastest-growing economies in the region. It has been deeply integrated into the global economy, and is highly open and fully connected to the global trading system. Vietnam is currently a member of 16 free trade agreements, including CPTPP and RCEP - the two largest free trade agreements in the region.
In terms of politics, Vietnam has established strategic partnerships and comprehensive partnerships with 30 countries, including 5 permanent members of the UN Security Council (UNSC) and all 10 member countries of ASEAN.
In 2020, Vietnam successfully undertook the role of ASEAN Chair in the context of the Covid-19 outbreak. As a non-permanent member of the UNSC, Vietnam's initiative for the International Day of Epidemic Preparedness (December 27th) was immediately approved by the UN General Assembly.
Thirdly, the rapidly changing international strategic environment has brought about many new opportunities and challenges for Vietnam.
For example, small countries in Asia, including Vietnam, should carefully evaluate large countries' strategic changes in the policy-making process.
In the Indo-Pacific region, the strategic competition between the US and China is escalating, putting Vietnam and other ASEAN countries at risk of being forced to choose sides.
Similarly, disputes and conflicts in the East Sea are becoming increasingly complex. No single country can independently tackle other non-traditional security challenges, such as the Covid-19 pandemic, climate change, and cybersecurity. Instead, international cooperation and diplomatic efforts are needed.
The increase in prestige and capacity has allowed Vietnam to pursue more proactive foreign policies. Success in dealing with Covid-19 and economic growth through global and regional relations has contributed to the success of Vietnam's foreign policies.
Vietnam's prestige and position have also been enhanced thanks to its efforts in solving international and regional issues, through its leading role in ASEAN and its non-permanent membership in the UNSC, its hosting of the 2nd US-North Korea Summit in Hanoi in 2019, and especially its increasingly active participation in UN peacekeeping activities.
All in all, these aforementioned factors explain why Vietnam has decided to be more proactive in its foreign policies. However, whether Vietnam will succeed with these new policies depends not only on its own efforts, but also on the support and cooperation of its network of friends and partners.