Ambassador Kairat Sarybay, Executive Director of the Secretariat of the Conference on Interaction and Confidence Building Measures in Asia (CICA), speaks about "CICA Today" at DAV
On the afternoon of April 6th 2022 in Hanoi, Vice President of the Diplomatic Academy of Vietnam (DAV), Dr. Nguyen Hung Son chaired a meeting where Mr. Kairat Sarybay, Executive Director of the Secretariat of the Conference on Interaction and Confidence Building Measure in Asia (CICA) delivered a presentation
The presentation enjoyed the attendance of H.E Yerlan Baizhanov, Kazakh Ambassador to Vietnam, high ranking officers of CICA, and officials of the Kazakh Embassy to Hanoi. Also present at the event, including staff from departments in charge of diplomatic services in each international geographical region, were representatives from Institute for Foreign Policy and Strategic Studies, the East Sea Institute, and outstanding students of the Academy.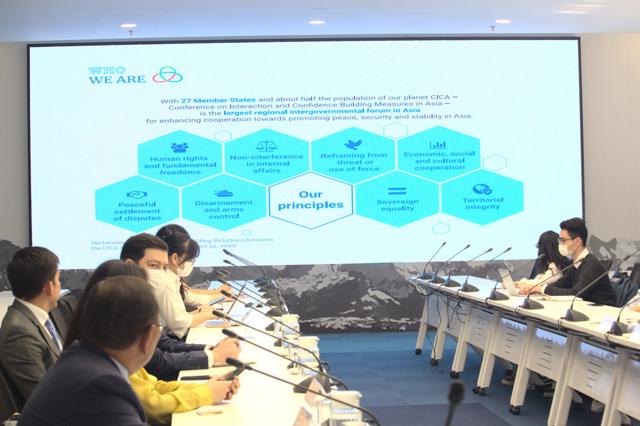 Ambassador Kairat Sarybay delivered the presentation on "CICA Today", sharing objectives and activities of CICA. CICA was established in 1992 based on the proposal of the First President of the Republic of Kazakhstan - Elbasy H.E. Mr. Nursultan Nazarbayev. CICA is meant to be an open forum in Asia to discuss important issues related to peace, security and promoting cooperation in the region. Currently, CICA has 22 member countries, which cover 90% of Asia's area. Vietnam became a member of CICA in 1993 as an invited guest, and then had observer status. During the official visit to Kazakhstan in September 2009, former Prime Minister Nguyen Tan Dung announced the news that Vietnam decided to join CICA as an official member.
DAV Vice President, Dr. Nguyen Hung Son also shared experience on the development of the ASEAN Communities with Ambassador Kairat Sarybay. Upon knowing that CICA is institutionalizing its activities, Dr. Son expressed a hope that DAV makes greater contribution to CICA, starting with participating in think-tanks. The presentation was successful and ended at 16:30 April 6th 2022. The DAV leader made the closing remarks before the delegates had a photoshoot with Ambassador Kairat Sarybay.