Indonesia officially rejects China's Nine-Dash line in a letter to UN's Chief
Indonesia strongly opposes Beijing's claims in the East Sea ( called as the South China Sea internationally) by sending a note to the UN's Chief. This is a strong move in Indonesia's foreign policy, though further collective actions are needed.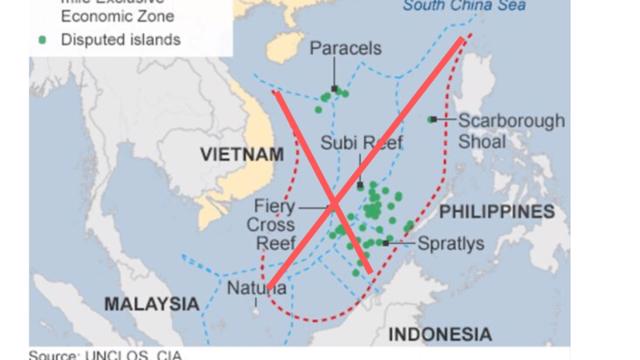 Indonesia's rare and strongest reaction so far is its letter to the UN's Chief on 26 May 2020 to officially reject China's Nine-Dash line. Therein, Indonesia expressed its support for a 2016 ruling by the Permanent Court of Arbitration in The Hague in 2016, which viewed that China's Nine-Dash line has "no legal basis".
With this letter, Indonesia has become the second country, after the Philippines, to reach the UN to officially raise their voice against China's 9-dash line. This also marks a change in the regional politics with Indonesia emerging to be deeply involved in the South China Sea dispute as China's activities have repeatedly trespassed to Indonesia's EEZ.
Most remarkably, Indonesian President Joko Widodo paid a visit the Natuna Islands in January 2020. At the same time, this reflects a higher step of Indonesia's changing East Sea (South China Sea) policy, moving from seeking a peaceful resolution for the region towards protecting its interests in the Natuna Islands. Previously, early this year, Indonesia has deployed its warship to the North Natuna Sea.
Indonesia's increasingly strong reactions are to respond to China's recent stepping up of violations in the East Sea (South China Sea). Despite of Covid-19 raging in China, since early this year, Chinese fishing vessels and coast guards have increasing its enter to the EEZ of Indonesia's self-proclaimed North Natuna Sea.
However, in fact, the maritime waters involving EEZ claims in the North Natuna Sea still subject to resolution by Indonesia and Vietnam. Taking advantages of this "grey area", China, then, has further complicated the situation by organizing illegal fishing in the area. China claims the maritime areas around Natuna on the ground that Chinese has been fishing in the waters in this area for generations, which is part of historical waters within the China's self-proclaimed Nine-Dash line.
So far, despite strong foreign policy moves, Indonesia has not adequately acclerated collective efforts to address China' increasing assertive actions regarding the East Sea (South China Sea) disputes.
It is timely for Indonesia and other ASEAN members to quickly work with each other to accelerate the process of negotiation of COC with China, given the latter's transformation to become a hegemonic power to dominate the order in the region./.
Dr Chu Minh Thao is Deputy Director at the Centre for Security and Development, Institute for Foreign Policy and Strategic Studies, Diplomatic Academy of Vietnam. She can be contacted at thaocm@gmail.com/thaocm@dav.edu.vn
Source: https://vietnamtimes.org.vn/indonesia-officially-rejects-chinas-nine-dash-line-in-a-letter-to-uns-chief-20864.html