INTRODUCTION ABOUT REAMEY SCHOLARSHIP PROVIDED FOR DAV'S STUDENTS
The Reamey scholarship, which aims to support students in the Diplomatic Academy of Vietnam who have overcome significant challenges or barriers to pursue their education. Since 2007, the Raymond E. Reamey Scholarship has become a great encouragement for Diplomatic Academy of Vietnam students. The scholarship was established in accordance with the wishes of Mr. Raymond E. Reamey – a US veteran, who worked for 34 years in the air force at Cam Ranh Port, south of Nha Trang. This scholarship has been maintained by his family for many years in order to support students who have achieved high academic results, especially those with good English skills in difficult circumstances.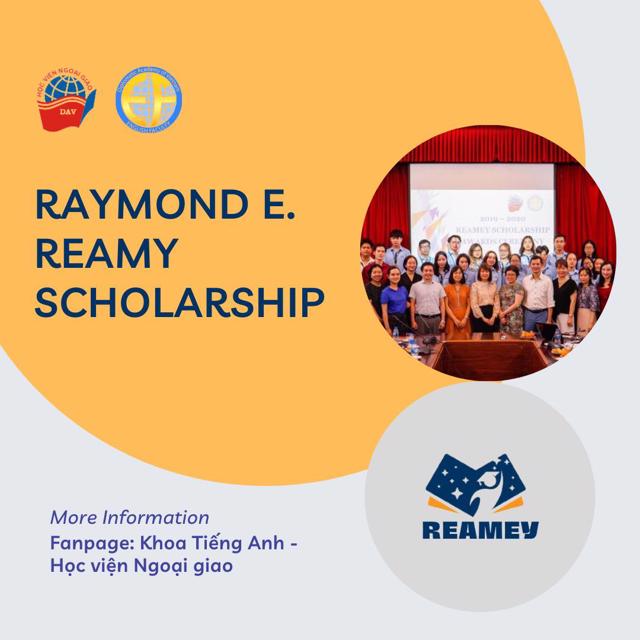 The Raymond E. Reamey Memorial Scholarship is an allowance for 20 promising and deserving students, from the 1st to the 4th year, who face financial resources but show determination in their studies. The selection of the deserving students will be made every semester by the management of the Academy and the recipients of the scholarship will be publicized on DAV's social platforms.
This year, the Reamy Scholarship continues to support DAV students through the contest The E-Face organized by English Faculty, thereby encouraging contestants of positive, meaningful and responsible living attitudes.
Please complete this form if you are students of English language Faculty (NNA49,48,47,46) during 2022-2023. Students of dual-degree program (English studies and other) are encouraged to apply.
This form is open from Apr. 6 – Apr. 20.

In the awarding of scholarships:
• Financial needs and Student GPA are the primary considerations with preference given to students in needs
• Completion of the 1st semester of 22-23 (e-transcript submitted as a proof)
• In addition to GPA and financial need, extracurriculars may be taken into consideration based on scholarship criteria
• 40 recipients are awarded.
After you submit your application:
• Successful recipients will be notified by the end of April via email.
• Successful recipients need to attend the scholarship ceremony
We encourage all NNA students to apply for scholarship support. Wishing you the best of luck!
Contact person: Ms. Hai Yen: 097 968 9197