Commendation Ceremony for Excellent Valedictorians from Universities in Hanoi 2021
On the evening of November 18th, Hanoi  Municipal Party Committee, Hanoi People's Council and Hanoi People's Committee jointly held a ceremony to honor the valedictorians who graduated with excellent grades from universities in the city. The event was organized on the occasion of the 39th anniversary of the Vietnam Teachers' Charter on November 20th via a virtual platform and in person.
The ceremony was attended by leaders, delegates and distinguished guests who were key officials from the central, local authorities, departments, branches and leaders from universities, academies, and especially with the participation of 90 excellent valedictorians from universities and academies in Hanoi.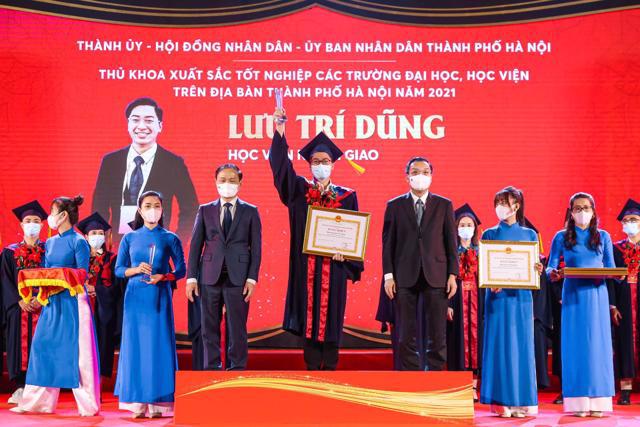 Speaking at the ceremony, Mr. Chu Ngoc Anh - Member of the Party Central Committee, Deputy Secretary of Hanoi Municipal Party Committee, Chairman of the Hanoi People's Committee emphasized that: "90 excellent valedictorians from universities and academies in Hanoi are appreciated and honored today as high-quality young human resources, valuable assets of the capital and the country, and typical representatives of enthusiastic young intellectuals. These are all active, creative, passionate in studying, doing scientific research, participating in community activities and starting businesses." He hoped that the valedictorians would further promote the youthful spirit of volunteerism, improve their own abilities and capacities to be worthy of the glorious tradition of studiousness, and contribute to raising their national intellectual wisdom.
A special thing in the ceremony was the presence of Luu Tri Dzung, a student of the intake 44 from International Economics Faculty. He was the only representative from the DAV. During his 4 academic years at the academy, Dzung was always passionate, engrossed in his studies. He proactively participated in collective activities and won various awards at large and small competitions in Vietnam. His outstanding performance today is the result of a long journey with unremitting efforts. On behalf of the Faculty of International Economics, we would like to congratulate Dzung and hope that he will gain more achievements in his career path and become an excellent citizen to honor the country.
The ceremony was successful. Once again, the Faculty of International Economics would like to congratulate 90 excellent valedictorians in general and Luu Tri Dzung in particular. The Faculty hopes to continue training and fostering more excellent and outstanding students for the common development of Vietnam in the future.