Ministry of Foreign Affairs Welcomes 81 "New Civil Servants"
From nearly 400 applications and through 2 recruitment rounds, the MOFA Recruitment Council selected 81 excellent individuals and on April 14th 2021, the Ministry was more than happy to welcome them to become a part of the MOFA. On the afternoon of April 14th 2021, at the MOFA office, the Department of Personal and Training in collaboration with the Diplomatic Academy of Vietnam organized the Recruitment Decision Ceremony and opened the Pre-civil Service class for new civil servants 2021.
The ceremony was attended by MOFA Deputy Dang Minh Khoi, Assistant Minister cum Head of the Department of Personal and Training Pham Quang Hieu, DAV Acting President Pham Lan Dung, representatives of related departments and 81 newly recruited servants from the 2020 examination.
Tough, disciplined but glorious
At the Recruitment Decision Ceremony, Deputy Minister Dang Minh Khoi highly valued, warmly congratulated and welcomed the young colleagues who had passed the tough and challenging examination to be present at the Recruitment Decision Ceremony and the Opening Ceremony of the Pre-civil service course. Being a part of the 81 newly recruited civil servant staff was a tremendously honorable and proud moment for every individual.
The Deputy Minister said that after 75 years, our country has been constantly developing, renewing and achieving major accomplishments. Diplomacy has contributed greatly to the country's success. Addressing the 13th Party Congress, General Secretary, President Nguyen Phu Trong affirmed that our country has never had such major achievements, potential, position and international prestige, thanks to the non-stop efforts of generations of diplomats during the past 75 years
However, the Deputy Minister believed that the global and regional situations continue to evolve in a rapid, complicated and unpredictable way. "What's important when you become an official of the MOFA is whether you can grasp the changes of the complex, volatile and unpredictable world situation to adapt and overcome those changes or not. It all depends on the intellectual capacity and courage of each individual," added the Deputy Minister.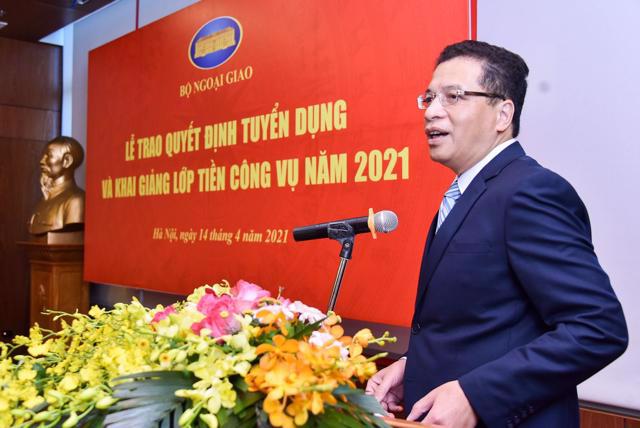 Mr. Khoi reiterated the 5 tasks that Foreign Minister Bui Thanh Son sent in a letter to all MOFA officials and employees in the country and abroad, namely: Solidarity,
Intelligence, Bravery, Dedication, Building a formal, elite, modern and comprehensive Vietnamese diplomacy.
Thereby, Mr. Khoi believed that the road ahead will still be challenging, but these young and potential servants here will be the next generation of talented and enthusiastic diplomats, making their predecessors feel proud.
Enjoying "diplomatic specialties"
The Vietnamese diplomatic service has always played an important role in the national revolutionary cause. Right from the very beginning of the establishment of the Provisional Government of the Democratic Republic of Vietnam, the diplomatic service was very honored and proud to be founded and directly led and taught by President Ho Chi Minh.
During his lifetime, President Ho Chi Minh always paid special attention to and prioritized the officials in building the Party and State government. He pointed out: "Officials are the root of all work"; "Every success or failure is due to good or bad officials"; "If there are good officials, any policy or work will be implemented successfully, which means it will be profitable. Without good officials, the task will fail, which means fruitless." The process of international integration of Vietnam is growing deeper and deeper. There are not only opportunities and advantages but also many challenges and difficulties, which require diplomats to "possess both political integrity and professional competence".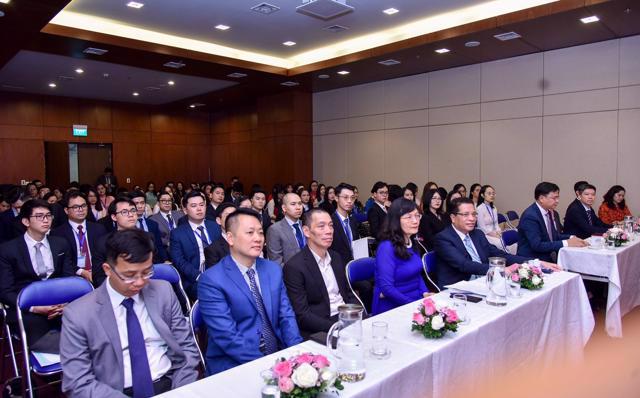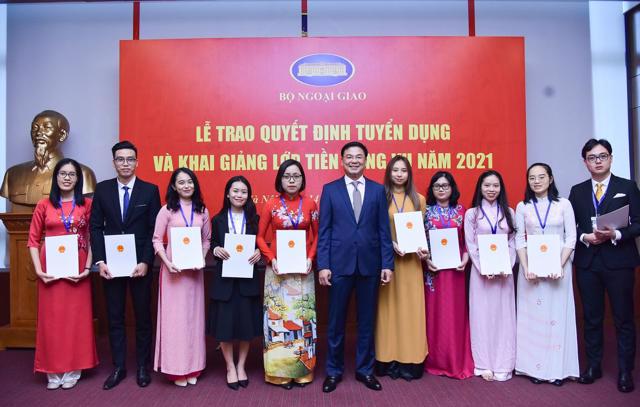 Therefore, to help the newly selected officials quickly adapt to the working practices at their work places, right after receiving their recruitment decision, they will attend the Pre-civil service class for 2 months.
This is a special training program of the MOFA, which was built by the Department of Personal and Training and relevant departments from the year-long experiences. This program contains necessary, practical and comprehensive contents such as updated knowledge on the MOFA working fields, compulsory skills including research methodology, writing chronological record, statements, telegrams, reports, meeting minutes, or comprehensive diplomat skills such as consulate, press information, state reception, event organization, and international conference
Especially, MOFA pays attention to and invites experienced diplomats, famous Ambassadors such as former Deputy Prime Minister Vu Khoan, Ambassador Nguyen Nguyet Nga, Ambassador Tran Trong Toan or leaders, managers, experts in the fields to exchange, train and help these newly recruited servants improve themselves with modern and comprehensive knowledge, skills and methods.
Assistant Minister, Director General of the Department of Personal and Training Pham Quang Hieu assessed that the new diplomats are equal to professional competence, well-trained in the country and abroad, professionally knowledgeable, fluent in foreign languages and equipped with necessary qualities of critical thinking for a foreign service officer.
He said that with the increasingly unpredictable developments of the world and regional situation, rapid changes in the method of carrying out diplomatic activities due to the impact of the 4.0 industrial revolution, officials today must have a firmly political will, always believe in the Party and State's foreign policies and guidelines.
In addition, diplomats must have modern thinking in researching, analyzing and evaluating situations to advise and propose policies and strategies; they must have a comprehensive knowledge base in many fields and most importantly they must have pride in the national traditional history and diplomacy as well as a desire to dedicate themselves to building a strong and developed Vietnam.
Therefore, attending the Pre-civil service class is a valuable chance for improvement and practice. The results will be one of the factors to allocate these new civil servants to suitable departments as well as to end up their internships.
Beauty for 2045 picture
On behalf of the new civil servants, Nguyen Phuong Hong Ngoc said "this is an important day in our life and career, a milestone marking the start of the crucial path ahead and an unforgettable memory".
She also expressed her pride for being officially recruited to be the MOFA officials with 75 years of glorious history in national construction and defense.
Nevertheless, young official should understood that as successfully recruited to be the MOFA officials, pride and opportunities will come with responsibilities and challenges. The new diplomatic environment sets requirements such as how to become a good official, how to inherit and develop the glorious tradition built by the predecessors, how to contribute to building diplomacy into a pioneer warrior in peace, serving the ultimate interest of the nation and people.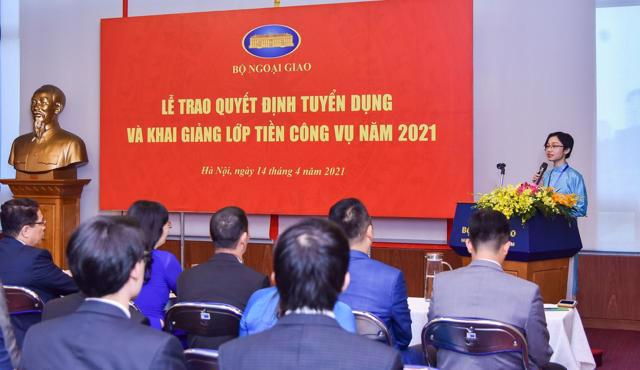 With love and passion for diplomacy and with youth enthusiasm, Hong Ngoc promised not to stop training to build courage and a strong political will, moral qualities, specialized knowledge, to raise awareness of work responsibilities, and to be willing to learn from the predecessors.
She also affirmed to make efforts to implement the 5 focal missions mentioned in Minister Bui Thanh Son's letter to all the MOFA cadres and officials, to become officials who possess both political integrity and professional competence as President Ho Chi Minh had taught and to excellently accomplish the given missions as well as to be deserved with the attention, trust and expectation from the MOFA leaders.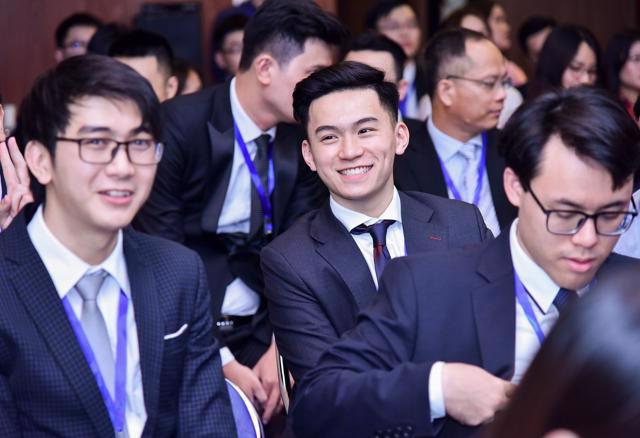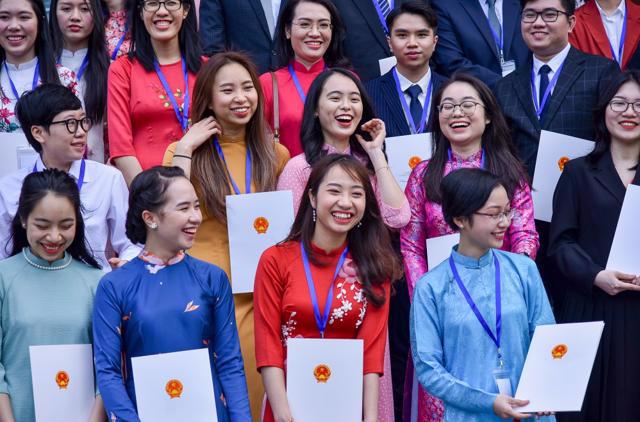 Especially, she also believed that she will have to try her best, be modest and willing to learn. In addition, she expected that her job will bring both opportunities and challenges so that every new official can grow and be more mature, deserving to be officials having both courage and expertise to contribute to the MOFA and Vietnam's diplomacy.
President Nguyen Xuan Phuc shared his wish that in 2045, Vietnam will be a beautiful picture that everyone of us has the opportunity to draw. Nguyen Phuong Hong Ngoc expressed that they hope to be able to contribute their efforts to diplomacy and the national development ambition.
According to the Department of Personal and Training, out of the 81 newly recruited civil servants, 20 individuals have a Master degree; 34 servants are trained abroad, 39 graduated from the Diplomatic Academy of Vietnam. There is a gap in their ages, ranging from the 7s and 8s generations who have worked for many years at other agencies and companies, to 9s and 10s generations.