Bui Thi Ngoc - Example of Overcoming Difficulties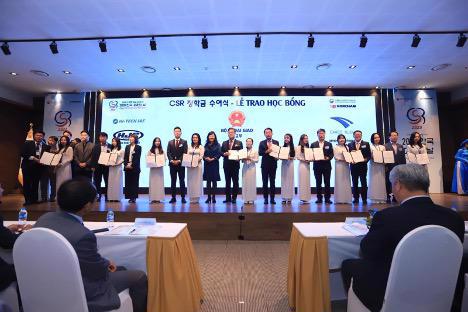 As a DAV female student, Bui Thi Ngoc from Quang Ninh strives to rise up despite facing numerous challenges. Her family is financially stricken. Her mother is unfortunately facing cancer. Her younger brother has mental illness since his young age. Her only support comes from her father, who is over 50 years old. Her father is a factory worker, but his health is not good and again unfortunately, his job has been affected due to the Covid-19 pandemic.
Bui Thi Ngoc, a Vietnamese born in 2000, living at Viet Hung ward, Ha Long city, Quang Ninh province, is now studying the English language at the Diplomatic Academy of Vietnam. She is one of the bright examples of students having an optimistic mindset and striving for success in learning.
Ngoc's parents are both workers, despite working hard, their salary is still quite modest with only about 8 million VND/month. Ngoc's younger brother suffered from mental illness since childhood. Last year, he was in a car accident but fortunately, his health later recovered gradually. This time, although her family situation is very difficult, Ngoc shared that "life is not so terrible". Being an optimist, Ngoc still tries to rise up, attend the lectures, and work part-time to support her family. Whenever feeling down, she turns to her mother, her important spiritual support, to share and find motivation to overcome problems in life.
Ngoc's mother, Luong Thi Vuong (born in 1972), was diagnosed with a brain tumor as soon as Ngoc entered the third year at the DAV. Mrs. Vuong has undergone 2 brain surgeries and she is currently undergoing chemotherapy for the 3rd time at Bai Chay hospital, Quang Ninh province. Expensive radiation therapy and that her mother had to stop work have increasingly burdened Ngoc's family.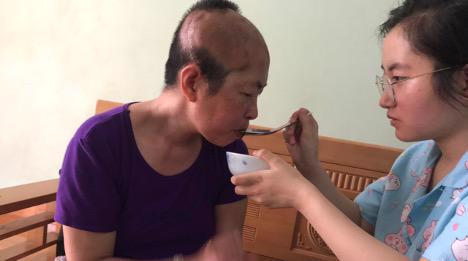 Ngoc's last support comes from her father (Bui Duc Loi, born in 1970), who is also ill. Due to the Covid-19 pandemic, his income is not as good as before. Ngoc said that since the outbreak of the disease, her father has been forced to stay at home for more than a year. He suffers from limb pain on days when the weather changes, but because of economic pressure, he still struggles to work to contribute nearly 4 million VND per month to pay for his wife's hospital bills.
Difficult as it may be, Ngoc has never given up with a belief that everything will be fine if she remains optimistic and constantly tries. At the DAV, Ngoc makes efforts to complete the subjects of the English language major. After schooling, she works part-time to support her family. Ngoc has worked multiple different jobs, from a cashier, a resort guide to an English tutor.
Witnessing her situation, many friends of hers exclaimed "if I were in her position, I probably wouldn't be able to stand it". With her strong will and efforts, along with the support and encouragement from the DAV teachers, Ngoc excellently became one of the 20 students who received the Korcham Scholarship (a scholarship awarded by the Korean Chamber of Commerce and Industry and the Department of Foreign Affairs Provincial - Ministry of Foreign Affairs to students with financial difficulty). Touched by Ngoc's situation and her efforts in studying, the English Faculty awarded her a Raymond Reamy scholarship, a grant for excellent students with financial hardship to help mitigate their burdens. Concurrently, the teachers also created favorable conditions for Ngoc to be able to take care of her mother in the hospital after the last 3rd surgery while joining the distance learning program so that Ngoc's studies were not interrupted.
Talking directly with her at this most difficult time, the writer can't help admiring her ability to endure, her strong-mindedness and frankness when describing her family situation. Thanking everyone for their support, Ngoc can't help feeling embarrassed since the support from DAV lecturers, friends and the community for her family is much more than she could imagine.
The story of Bui Thi Ngoc is truly admirable. There are ups and downs in life but each of us needs to know to appreciate what we have, and at the same time to learn to live optimistically, contributing to spreading good values ​​to the surrounding people. "I hope that you can stick in your mind, a memory of a little girl with a positive-mind and you never give up". We hope that Ngoc will always keep this spirit, which was what she wrote in the essay when applying for the scholarship. After all the hardships she has endured, the difficult days will soon walk away so that peace and joy will once again come to Ngoc and her family.
To support Bui Thi Ngoc, the DAV Student Union has made a notice calling for generosity from DAV teachers and students on social media. All support should be sent to the DAV Student Association:
+ Account number: 00874060141029
+ Account holder: Nguyen Tuan Hiep
+ Bank: Vietnam International Commercial Joint Stock Bank (VIB)
+ Message: Support Bui Thi Ngoc TA45B
Duration: 20-25/5/2021.
After May 25th, 2021, the Executive Board of the DAV Student Union will compile the list and transfer the donation to Ngoc's family.
Wishing Ngoc and her family strong and safe to overcome such difficulties!