DAV Organizes Meeting on Work Summary 2021 and Task Deployment of 2022
The meeting was attended by Mr. Bui Thanh Son, Member of the Party Central Committee, Minister of Foreign Affairs, Mr. Pham Quang Hieu, Deputy Minister and representatives of departments of the Ministry.
In her opening remarks, Dr. Pham Lan Dung, DAV Acting President briefly reported DAV activities in 2021 and expressed her deep gratitude to the leaders of the Ministry of Foreign Affairs for their close guidance and to the departments of the Ministry for accompanying DAV in all activities, even in large and small events. Dr. Pham Lan Dung also made some comments on the challenges and difficulties that DAV has been facing and affirmed her commitment to complete missions in research work, admission as well as in training staff and students, thereby opening up activities for 2022.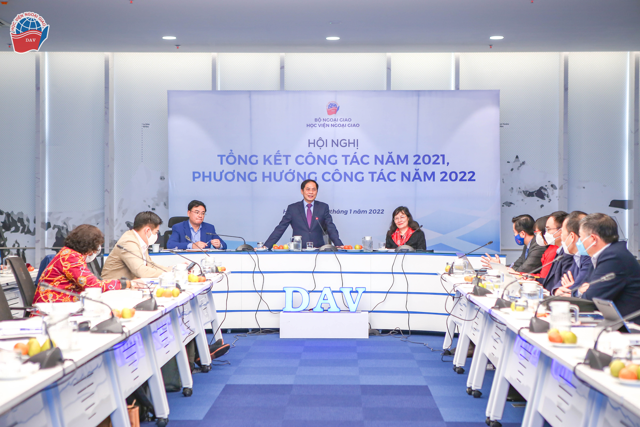 At the meeting, representatives of DAV's departments reported the focus of work in 2022, expressing DAV's honor to maintain its role and reputation in the Ministry of Foreign Affairs, especially in research work, affirming its determination to continue promoting existing achievements and making efforts to create new values in the future.
Regarding admission, representatives of the Training Board proudly presented DAV's success in building admission project, increasing the number of students and improving the quality of teaching as well as suggesting new orientations in 2022 including opening new majors, equipping more skill courses and continuing improving admission quality.
Regarding facilities, representatives of DAV's departments expressed their appreciation for the support of the Ministry and international friends in the process of completing and inaugurating new buildings and classrooms, meeting international standards, as well as affirming its determination to develop the digital library into a national database center on international relations for different social groups regionally and internationally.
At the meeting, representatives of departments from the Ministry emphasized DAV's role in collaborating to implement the Ministry's activities. They suggested continuing to cooperate with DAV in implementing the Ministry's key missions as well as making practical comments on researching, budgeting work and training DAV staff, lecturers and students to help DAV have more precise and effective analysis and evaluation.
Speaking at the meeting, Minister Bui Thanh Son praised DAV's achievements in 2021, expressed his impression at the DAV staff's, lecturers', researchers' dynamism and creativity, especially in quickly adapting to the regular expenditure autonomy mechanism in the context of the COVID-19 pandemic. He emphasized some key tasks that the Ministry assigned to DAV in 2022 including training experts of the Ministry, continuing improving teaching quality in terms of content and form, moving towards building a comprehensive and modern diplomacy.
At the end of the meeting, Dr. Pham Lan Dung, DAV Acting President accepted Minister Bui Thanh Son's guidance, thanked the comments from the Ministry's departments, affirmed that DAV would further maintain and develop close connection with these units, determine to successfully implement assigned tasks and thrive for more achievements in 2022./.