Online Seminar on "China's Blue Economy and Some Problems for Vietnam"
On July 27th 2021, The Diplomatic Academy of Vietnam (DAV) held a virtual seminar entitled "China's Blue Economy and Some Problems for Vietnam" which aimed at exchanging, discussing China's proposal to establish China-ASEAN Blue Economy Partnership. The proposal was approved at the 21st ASEAN-China Summit in November 2018.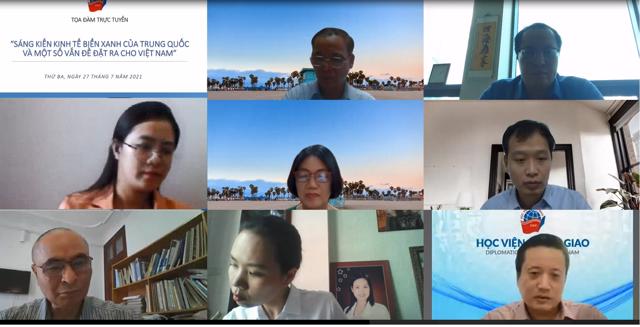 Present at the seminar were experts and scholars from many stakeholders such as Administration of Seas and Islands, Ministry of Natural Resources and Environment; Command of Navy; Command of Coast Guard; Maritime Administration, Ministry of Transport; Department of International Cooperation, Ministry of Science and Technology; Vietnam Academy of Science and many other research institutes in the country.
During the seminar, the experts stated that "Blue Economy" is a concept promoted by the United Nations for years; however, international cooperation to develop a blue economy in the region is a new concept which needs critical evaluation.
According to Associate Prof. Dr. Vu Thanh Ca from Hanoi University of Natural Resources and Environment, sea is one of the most important driving forces for economic development of maritime countries; however, in recent years, the world's oceans in general and the countries' waters in particular have been encountering serious problems of resource degradation and environmental pollution, which greatly affect the benefits, especially the economic ones that the sea can bring to people.
Therefore, developing a blue economy to protect, conserve, exploit and properly use natural capital and resources, especially renewable resources in the sea and coastal areas, has become extremely urgent and important, which contributes to developing marine economies, ensuring sustainable livelihoods for people today and future generations.
Assessing China's proposal to establish China-ASEAN Blue Sea Partnership, the delegates said that China's Blue Sea goes in line with current global trends. Accordingly, if implemented, this initiative will contribute to solving an array of challenges in non-traditional security issues such as sea level rise, dealing with environmental pollution, plastic waste, climate change, etc.
Nevertheless, the experts also said that implementing such proposal will take time for the parties to practically exchange and discuss potential areas for cooperation in the future. The delegates enjoyed enthusiastic and substantive exchanges on many aspects of the proposal, such as clarifying its connotations and objectives as well as assessing its prospect in the coming time. On that basis, the seminar received a number of policy suggestions and recommendations from the experts and scholars in reviewing and evaluating this initiative, thereby coming to specific policy implementation directions for ASEAN and Vietnam.